What Range Can Construction Rock Wool Insulation Board be Used in ?
What Range Can Construction Rock Wool Insulation Board be Used in ?
Rock wool, as a kind of open cell porous fibrous insulation material, is mainly composed of basalt, dolomite and other igneous rocks which are made through melting and centrifugal pull into fiber, with adhesive added and curing.Rock wool not only has good thermal insulation performance, fireproof performance and stability of durability, but also has a certain mechanical property, hydrophobic property, etc., to adapt to many application.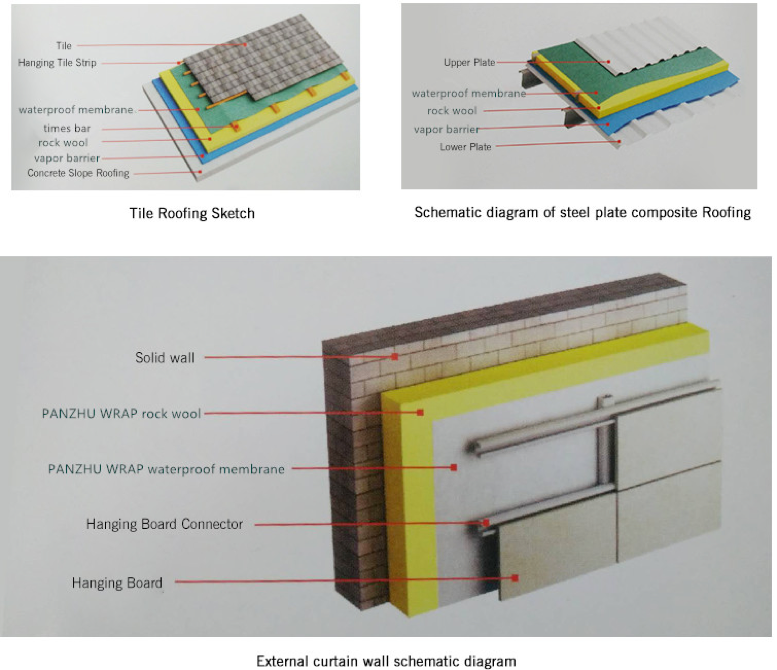 1. Application of external thermal insulation system of building with thin plaster
The thermal insulation system of the external wall is a mature, sound and thermal insulation energy saving system, which can effectively improve the heat transfer coefficient of the building envelope, so as to achieve a good purpose of building energy conservation and be widely used in the building.Thin plaster system used rock wool not only need good insulation, fire prevention performance, and at the same time has certain mechanical properties, such as hydrophobic and durability. The GB/T25975-2010 "Building Exterior Insulation Used Rock Wool Products" standard based on the system characteristics and construction requirements clearly specify the performance index requirements of the exterior insulation with rock wool board and rock wool core.In addition, in some high-rise residential, strong wind load area, It is recommended to use rock wool belt exterior insulation system, rock wool core is made by rock wool board cut and turn 90 °, products with vertically oriented fibre structure and a higher mechanical strength.
2. Application of non-transparent curtain wall
The exterior design of curtain wall is modern, beautiful and diverse. It is widely used in commercial buildings and public buildings.Rock wool insulation board can be applied to non-transparent curtain wall as insulation. For rock wool insulation material of non-transparent curtain wall, the rock wool insulation material can be directly anchored to the base wall through anchorage parts (assembly curtain wall is not involved in this part). Rock wool used in this part can play a certain role in thermal insulation and is focusing on thermal insulation performance and hydrophobicity.Durability and basic performance (for some local landmarks, curtain wall thermal insulation system is required to refer to external wall thermal insulation system. They are not included here). GB/ t19686-2015 Rock Wool Thermal Insulation Products for Building clearly stipulates the performance of rock wool for curtain wall.
3. Application in building partition
In our life,we can feel a lot of noise, such as construction site noise, traffic noise, elevator, air conditioning and other equipment noise.Due to the special fiber structure of rock wool, it has a good effect of sound absorption and noise reduction. According to different acoustic requirements of the living space, it can be applied to a variety fields of sound absorption and sound insulation structure to create a quiet and comfortable activity space.The sound-absorbing capacity of the material is usually characterized by the noise reduction coefficient NRC, which mainly refers to the proportion of the energy lost after the sound wave contacts the sound-absorbing interface.Sound-absorbing rock wool board has good sound-absorbing effect.Rock wool partition system can achieve a certain sound insulation effect, according to the privacy requirements of different living spaces. It can be also designed into different sound insulation structure.
PANZHU WRAP rock wool with super high acidity coefficient of 2.0 has better durability and is the best choice for high-rise buildings and areas with strong wind load.
Please feel free to give your inquiry in the form below.
We will reply you in 24 hours.