>
>
>
PANZHU FIBER® MINERAL WOOL BOARD
PANZHU FIBER® MINERAL WOOL BOARD
PANZHU FIBER ® MINERAL WOOL BOARD is made of high-quality basalt as the main raw material, after high temperature melting, and adopts international advanced system of four roll centrifugal wool processing machine. The basaltic rock wool is melted into discontinuous fiber of 4 ~ 7 microns diameter, and then added a certain amount of binder, dust laying oil and moisture repellent, after sedimentation, curing and cut into size. Such technology can make mineral wool with different density and usage.
I.PANZHU FIBER® ROCK WOOL BOARD PERFORMANCES:
1. Ultra-high fire resistance: the softening point of PANZHU FIBER® rock wool fiber is 900-1000℃, and for long-term use about 600℃ .
2. Shrink temperature with thermal load: 643 degrees centigrade
3. Water resistance: the moisture absorption of PANZHU FIBER® rock wool board is only 3.9% (the water content of 100 kg rock wool board has water about 3.9 kg), but does not affect its performance at all.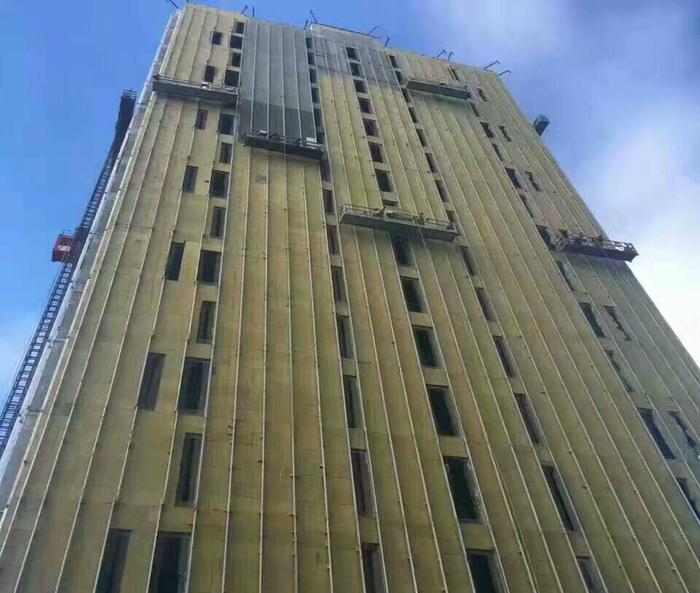 4. Low organic matter content: the organic matter content of PANZHU FIBER® rock wool THERMAL INSULATION is 2.9% (the lower the organic matter content is, the better the flame retardant, sound insulation and thermal insulation effect of the product will be).
5. Sound insulation: with its different thickness, rock wool THERMAL INSULATION can reduce 30-50 db noise.
6. Durability: the acidity coefficient represents the durability of rock wool THERMAL INSULATION.The national standard requires acidity coefficient≥1.6, while the item of PANZHU FIBER® rock wool board is ≥2.0, which is suitable for high-rise buildings and other applications that need high standard insulation.
7. Thermal insulation: PANZHU FIBER® rock wool THERMAL INSULATION has thermal conductivity (at room temperature) 0.035w/m2.k
Application of PANZHU FIBER® ROCK WOOL BATT INSULATION
1. PANZHU FIBER® moisture-proof ROCK WOOL BATT INSULATION: marine use ROCK WOOL BATT INSULATION is used for thermal insulation and fireproof partition on ships;Water-repellent ROCK WOOL BATT INSULATION can be used for vehicles, mobile equipment, cold storage projects, air conditioning pipelines and the heat preservation and fire prevention in humid environment,also some applications with moisture-proof requirements.
2. PANZHU FIBER® ROCK WOOL BATT INSULATION has excellent fire prevention, insulation and sound absorption performance: it is mainly used for insulation and sound absorption of building walls and roofs;Fire prevention and noise reduction of building partitions, firewalls, fire doors and elevator shafts.
INSULATION Range of application
Petrochemical industry - oil, electric power, chemical industry equipment insulation sound absorption and noise reduction.
Building industry - thermal insulation and sound absorption for building partitions, curtain walls, roofs and building envelopes.
Industrial and mining industry - thermal insulation and fire prevention of industrial kiln, oven, large diameter storage tank and ship.
Please feel free to give your inquiry in the form below.
We will reply you in 24 hours.