>
>
>
How Can Your Waterproof Breathable Membrane Become a Qualified Air Barrier
How Can Your Waterproof Breathable Membrane Become a Qualified Air Barrier
Waterproof Microporious Membrane
Waterproof Microporious Membrane is an indispensable product for windproofing, waterproofing, moisture-proofing and heat preservation of modern architecture. Its waterproof and moisture-proof effect is beyond doubt, but the wind protection effect is different depending on different installation method?So how to make your Waterproof Microporious Membrane become a qualified windshield?Here is a simple installation method.
The old installation method:
The old method was to staple the Breathable Roofing Membrane onto the shell wall and then install the outer siding.
Disadvantages:
This installation method has some disadvantages
1. If the cap nails are not pasted one by one with flashing tape, water leakage and air leakage may occur on the nail holes.But pasting one by one is very cumbersome, and I think few installation agencies can do it.
2. If air enters the interior of the membrane, it will exert a pulling effect on the membrane, which may lead to tearing at the nail holes and complicate the subsequent repair work.
3. The waterproof effect will also be affected, because the cap nail will gradually become loose with the movement of the house and other problems, making the installation of the Roof Breather Membranes with the wall become loose, so that the water penetrates into the interior of the Roof Breather Membranes and causes the house leakage problem.
New installation method:
All you need is a wooden batten.We shall install a wooden batten vertically every 60cm. The wooden batten does not need to be too thick. Nails shall be driven on the top of the wooden batten, and the nails shall penetrate the wooden batten and be installed tightly on the shell wall.
The advantages of this installation method:
1.If the Weather Resistant Barrier is pulled quite flat, the Weather Resistant Barrier will be mounted on the wall board tightly, and the overall windproof performance will be greatly improved.
Waterproof Breathable Fabrics Membrane
2. Place the nail on the wood.In the case of a tight nail, the nail area will be compacted, so that air and water can hardly enter the nail hole.
3. If possible, a layer of flashing butyl tape can be pasted on top of the Waterproof Breathable Fabrics Membrane upon the nail hole. The flashing butyl tape can enhance the windproof and waterproof performance of the nail part.
Have you learned something from our passage?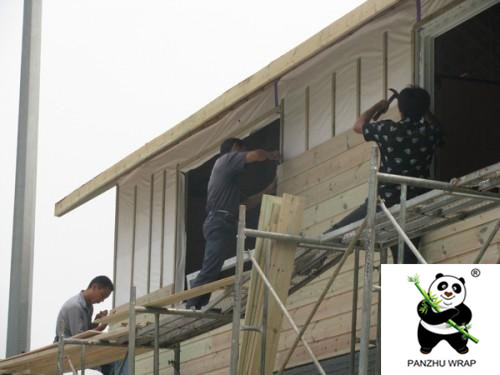 Please feel free to give your inquiry in the form below.
We will reply you in 24 hours.