>
>
>
Building Energy - saving Rubber Foam Insulation Pipe Have Important Significance
Building Energy - saving Rubber Foam Insulation Pipe Have Important Significance
Rubber foam pipes have a smooth surface, which air vapour and cold air from air conditioning is very difficult to infiltrate in. The steam insulation layer is very thick with good thermal conductivity. The thermal insulation pipe material is not easy to get fire,and consumers can rest assured to use. We are producing products according to GB / 8624-1997 "Building Materials Combustion Performance Grading Method".Our products are tested to be GB / 8624 B1 level flame retardant materials.We promise that our foam rubber pipe products are green environment-friendly materials,which is free of chlorine and chemical fiber, and will not cause any harm to human body when installing and using it. Moreover, our rubber foam insulation pipe is extremely soft and convenient for construction, and can be handy in the installation environment with high degree of tortuosity.
Rubber foam insulation pipe has been fully applied in data center, building venues, CBD business district and other industries central air-conditioning system pipe insulation, energy saving and emission reduction, fire safety and sound absorption noise reduction.With its light texture, low density, high strength, low thermal conductivity and other superior performance, rubber foam is widely used and rapidly promoted in the domestic construction market.Rubber foam insulation materials can be made into various types of sheets and pipes according to user requirements in two forms. It can also be designed according to customer requirements with different color style.
In our life, in a variety of pipe materials, thermal insulation pipe is the most common seen and used one, for the thermal insulation pipe plays a very important roll in our society. The heating pipes also need to use this thermal insulation pipe.And there are many kinds of insulation pipe materials, including rubber foam. Due to the excellent insulation characteristics of rubber foam materials, it is very suitable to be made into the production of insulation pipe materials.Rubber foam insulation pipe also plays an irreplaceable role in our urban construction and their quality has a great impact on our normal life.
Rubber foam insulated pipe has high elasticity, so it can reduce the vibration and resonance of the cold and hot water pipes.Rubber foam insulation pipes have good winding and toughness performance, so it is easy to handle bending and irregular pipes construction, and can save labor and materials.Rubber foam and aluminum foil insulation pipe improve their moisture resistance performance after the adoption of aluminum foil composite technology and delay the speed of material aging, completely avoid surface crack defects of the rubber foam material and greatly improve the service life of the material.And the external non - combustible aluminum foil improve the fire performance of the insulation ulteriorly.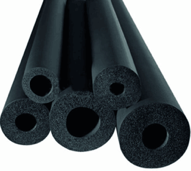 PANZHU WRAP rubber foam insulation material include: PANZHU WRAP high temperature foam rubber, PANZHU WRAP ultra-low temperature foam rubber, PANZHU WRAP sound absorption sponge rubber, PANZHU WRAP halogen-free rubber foam, PANZHU WRAP high elastic rubber foam and PANZHU WRAP color pipe for air conditioning.We welcome customers to visit us to see our high quality products.
Please feel free to give your inquiry in the form below.
We will reply you in 24 hours.